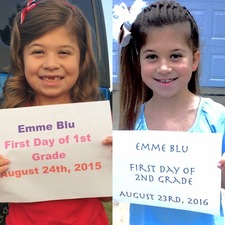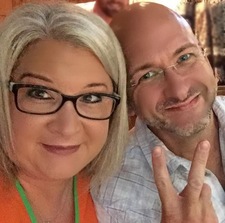 Summer has ended, at least for Melissa and Emme.  Emme is now in the 2nd grade.  It is surreal to think she is at this stage in life.  She continues to excel in gymnastics and has just finished her first season of volleyball.  She wears jersey #5 which was Melissa's number until she finished college.
Many have asked and Emme's health is doing well.  We have seen a craniofacial doctor twice here in Dallas. The small holes that were detected on the CT scan at Vanderbilt are still there but unlike that doctor this doctor says they are very insignificant and he would not touch them. However the circumference of her head is in the 20 percentile and will experience no more growth. Come to find out when she had her initial surgery at 6 months old was too early. This impeded the natural growth of the cranium.  However this may not present a cosmetic issue.  But as she grows older if the measurements of her head are disproportional to the rest of her body the doctor is comfortable repeating this surgery until she is 15 years old. Unlike the 8 days spent in the hospital on her first surgery this would be no more than 2 days. As Melissa and I began to ask questions we learned that Emme is not the first patient the Dallas doctor has seen from the Vanderbilt doctor. He stated the protocol and method by which the surgery was done was "…not the way it should have been done…".  Therefore a subsequent surgery done the proper way would have a minimal recovery time unlike what we were told last year that she would be on restricted activities for up to 3 months. This was just another confirmation that our move to Dallas was the right thing to do.  This is a situation we will monitor as time goes on. We appreciate all of you who have inquired on the status of this issue. 
Regarding me and the Deep Brain Stimulator (DBS) that I have I am still waiting for the insurance to approve the doctor I need to see.  We were forced into taking an HMO health plan and for the most part it's not been too bad. It's just having to jump through the referral hoops to get anything done.  I have been here for 1 year and have not got anywhere with this. I am in need of updated settings and on-going monitoring.  I followed up with the insurance this week and still have no answers.  I'm asking God for favor and to place me where I need to be.
When it comes to travel and bookings you'll see it's getting busy.  However that's after a summer of sporadic dates.  Obviously we have survived it. But in an effort to supplement household income I have decided to get my real estate license. This wouldn't be possible without the financial support of a very close friend of many years. Being a real estate agent will allow me the flexibility still to travel and do what I've been called to do. I'll begin classes next week.  I'll need to complete 160 hours prior to taking the test. I haven't studied for any type of test since my one semester of college.  Let's just say I wasn't the higher education type. Maybe things could have been done differently but that's the "what if" in my life. 
It was also at that time I got a call from an established quartet The Telestials who were based in Nashville.  I was hired as their pianist and began to live out my life long dream of traveling and sharing the Good News full-time. I decided a year later to venture as a soloist. That was 1996 and 20 years later I'm still going having traveled about 1.3 million miles.  Even at 42 years old my body doesn't bounce back from some of these trips. 
Over the years I have used air as a preferred method of travel when it comes to long distance schedules.  But the body still knows it's in motion.  Last year I was granted A-List status with Southwest Airlines if that tells you how many flights I took.  I've been TSA pre-checked for over a year and that lessens the stress and allows me to go through the short line.  Speaking of the short lines this email has not been short lines but I had a little time to sit and bring everyone up to speed on The Life of Times of the Bunches!  
Note on the schedule some dates have changed since the last news update.  Some are no longer listed due to cancellations and a couple are still booked but have been rescheduled for other dates.  ALWAYS call and confirm dates before traveling to these events.  Dates are subject to change without notice.